Every self-respecting Christmas lunch starts with a canapé of delicious appetizers to nibble on between conversations. And raw prosciutto, as you know, is the king of appetizers. A few soft slices of prosciutto and a little creativity are all that is needed to create appetizers that would credit a gourmet restaurant.
As Christmas approaches, here are 5 ideas to surprise your guests.
Croutons with raw prosciutto, spreadable cheese and dill
Slice a baguette or long loaf of bread and toast the slices in the oven, spread a layer of cream cheese (like Philadephia) on top, lay a slice of prosciutto and a sprig of dill to decorate and flavour it all. If you are particularly creative you can arrange the prosciutto slice folded or rolled, to make the crouton more voluminous.
Raw prosciutto, ricotta, parmesan and basil roses
Mix the ricotta with the grated parmesan cheese and work with a fork until you get a creamy but compact paste. Let it cool in the fridge for about an hour. Meanwhile, roll up the prosciutto slices, fold the edges to get a rose shape and put them in paper cups. After an hour, take the ricotta and parmesan mixture out of the fridge, form balls and place them in the centre of each prosciutto rose. Place the cups on a circular tray and decorate with basil leaves for a tasty bouquet of roses!
Skewers of prosciutto, grapes and white melon
Scoop small balls of white melon with a special tool. Cut the prosciutto into strips a couple of centimetres wide. Put the melon, folded prosciutto and a grape in that order on skewer sticks for a light and delicious appetizer that is colourful and refined.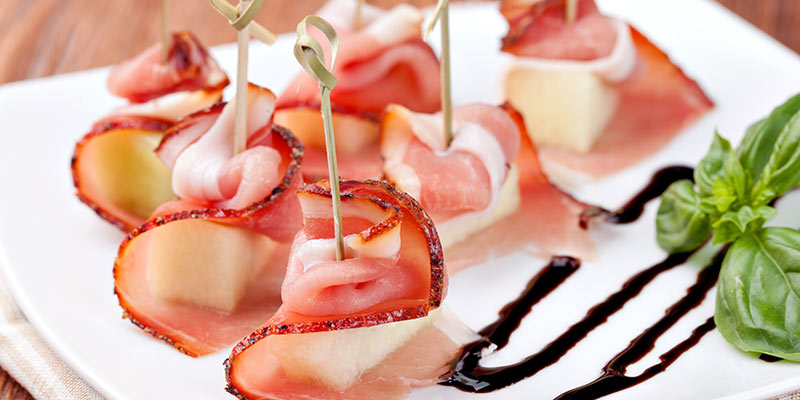 Rolls of raw prosciutto, pears, rocket and balsamic vinegar
Peel the pears and cut into small slices. Roll a slice of prosciutto around each piece of pear, top with a rocket leaf and decorate with drizzled balsamic vinegar. Fix it all with a toothpick.
Apple tartlets with raw prosciutto and cream cheese
Wash the apples carefully, remove the cores with a special tool without peeling them, cut into thin slices horizontally and wet with a little 'lemon juice so they don't oxidize. Clean the shallot and chop it up in the mixer with some basil leaves, then mix with the soft cheese until you get a creamy dough to spread on the apple slices. Prepare roses of raw prosciutto and place in the centre space left by the apple core.