AUTHENTIC TRADITION OF MARCHE MEAT PRODUCTION FALERIA PROSCIUTTOS, A GUARANTEE OF AUTHENTICITY AND QUALITY.
The best Italian meats, sea salt, natural seasoning, no added preservatives, the beneficial air of Marche's hills, perfect ageing, careful and accurate processing and a mastery of time. This is what goes into making a Faleria prosciutto.
Our secret is care at every stage of production. From selecting the meat to the seasoning, we follow the ancient traditions of Marche region to give Faleria prosciuttos an unmistakable taste and scent.
PROSCIUTTO AS IT USED TO BE
SELECTING THE MEAT
Not all meats can become a Faleria prosciutto. We choose only the best pigs born and bred strictly in Italy and traceable by a tattoo that shows their origin.
SALTING
Trimming removes part of the rind and the excess fat, then we add salt, first with the help of machines and finally by hand. After a rest in special cold rooms, we massage the thigh to even out the temperature, then clean it and give it a second salting followed by another resting phase so it absorbs the sea salt evenly.
DESALTING, DRESSING, DRYING
Air jets and a special lukewarm water wash gently clean salt from the thighs then we put them in ventilated store rooms for drying.
LARDING
As per tradition, larding is performed by hand by artisans in the prosciuttificio. They spread a mix of lard, rice flour, black pepper, juniper and natural flavours over the thighs to protect them from external agents and to soften the surface muscle layers.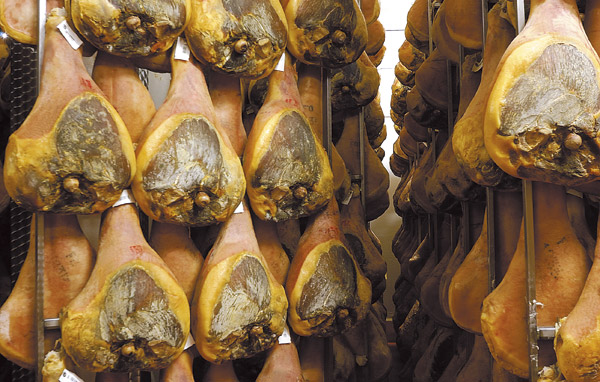 AGEING
At this point, let time do the work. Because good things come slowly. We season our prosciuttos for 13 to 20 months to produce an unmistakable sweet and spicy flavour, pink colour and scent rich in nuances, which preserve all the best elements of our local area.
POINTING AND MARKING
Olfactory evidence reveals the quality of the prosciutto. Our craftsmen prick the thigh with a sharp needle and the scents that stick to the instrument reveal to the expert whether the prosciutto is perfectly seasoned. Only once the prosciuttos pass all the tests do they receive the Faleria quality mark.